I am an avid reader of books. One the best things that I ever bought (and subsequently bought new versions) was the Amazon Kindle. I have the 4th version, just the basic one that I bought in Heathrow departures for £59 ($80 ish).
John Brierley – Pilgrim Guide to the Camino de Santiago, 2015
The first book that I purchased unfortunately isn't available on the Kindle. In some ways having a guide book that you can just pick up at a seconds notice to refer to is pretty useful.
But a book still weighs, and Brierley's popular 'Pilgrim's Guide to the Camino de Santiago' is quite heavy. Indeed heavy enough for me to rip out the previous chapter pages as I went along.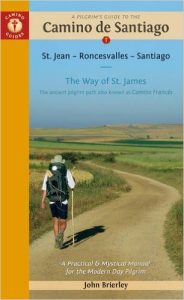 It really is a very good guide. I cannot really fault it except for the author's righteousness that becomes slightly annoying after a while. I tended to skip his 'thoughts' and just focused on the useful information.
My second and third books are both travelogues.
Tim Moore – Spanish Steps, travels with my donkey
This account of the Camino is a little dated now but it is still an enjoyable read, mainly due to the fact there is a donkey involved.
The author describes the great effort just to source a donkey. Much of his Camino was consumed by looking after this beast who seemed to have an insatiable appetite.
It's a nice read before, during or even after your Camino.
Keith Foskett – The Journey In between
This is an excellently written book by a great author. It's so good in fact that I immediately bought his account of the Pacific Crest Trail after I finished this one.
Fozzie, as he is known in the book, is always getting into scrapes which is enjoyable and fun to read.
His account actually starts from deep within France at Le Puy, which is a pilgrim route linking Central Europe to St Jean Pied de Port.
Buy it! It's a great read!