It's already June, so I thought I'd tell you all about what I have been doing, where I am at now and my future plans too. Yes, it's going to be a pretty long post!
What I have been up to…
On the 31st March I set off from Seville in the south of Spain to hike the Via de la Plata, or the Silver Way. It's approximately 1000km from Seville to Santiago. The VDLP is one of the lesser known Camino routes in Spain. It actually finishes in Astorga, which is on the much busier Camino Frances route.
Via de la Plata Camino – Mar 31 to May 8
First a confession. I attempted this route two years ago and gave up just before Merida, which is about one week into the walk. To this day, I'm not even sure why.
I just wasn't feeling it at the time,  and found the lack of other hikers a bit depressing. I actually ended up crossing into Portugal to do the Portuguese Way, from Porto to Santiago, which is a much shorter and more popular walk.
The VDLP is a different animal to the other more popular Caminos. There are less people walking, less services and more distance to cover. As I said before, it was the lack of other pilgrims that probably got to me, and no one I met spoke much English either (yes, that's my problem that I don't speak much French or Spanish).
I had no such issue on the Portuguese Way, as it's very popular, particularly from Porto, and most people I met spoke English.
This time I was determined not to quit! However, early into the third day, I was feeling quite low and thinking 'why am I doing this?'. Thankfully, I soon shook these negative feelings off.
I find that once you have been walking more than a week, quitting becomes less of a threat, unless you are forced to.
You start to get into a rhythm, both physically and mentally. I am convinced that most people quit due to what's going on in their head, rather than their body.
Hiking long distances is a mental game, for sure.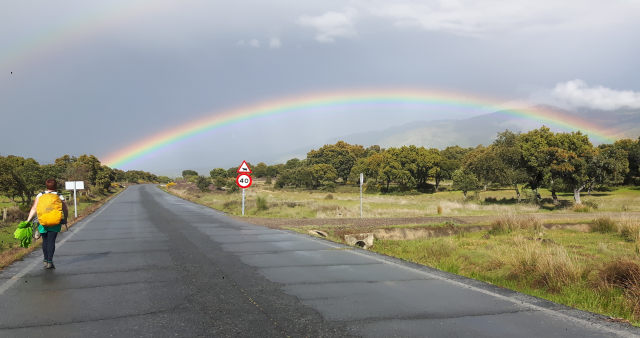 I met some lovely people along the way, from all corners of Europe and the World. The VDLP is definitely becoming more popular, as there were many more pilgrims than two years ago. It's still way short of the French route, which is getting record numbers this year.
The Via de la Plata actually finishes in Astorga, which is on the French Way. Many of the pilgrims I hiked with left the VDLP near Zamora to walk the Sanabres Way to Santiago. I chose to stick with the Via all the way to Astorga. I kind of regretted it a bit, as it was very quiet, with a compete lack of services and even places to stay! I'd recommend people to take the Sanabres Way.
Once I arrived in Astorga I followed the French Way. Yes, this was the second time for this section, as I had already completed the whole French way from St Jean Pied de Port to Santiago in 2016. I enjoyed it though, and it's busyness and abundant services made a welcome change!
I completed the hike in 38 days, with only one rest day. The rest day was probably needed. I do think it's good to take a break, but I also had a few short days of less than 15km, which felt like rest days.
The longest I walked was 42km. I had a couple of 40km days, including the final one into Santiago.
Overall I really enjoyed the Via de la Plata and definitely recommend it!
---
If you are interested in watching my journey from Sevilla to Santiago then you are in luck. I filmed daily vlogs from the Camino to my Youtube channel (see below).
I will warn you that the quality of the filming was not great. My phone camera was playing up along the way, but you should still be able to get a good insight into the VDLP.
---
Where I am at now…
Hello from Siem Reap in Cambodia! I am in Southeast Asia for a few months to catch up with my online work. When I am not long distance hiking, I'm usually found in coffee shops with my laptop, drinking lots of coffee.
My favourite destinations for being a 'digital nomad' are Lisbon in Portugal, Chiang Mai in Thailand, Merida in Mexico and Ubud in Bali.
These locations all have lots of places to work from. The cost of living is also low, particularly in Asia, so I can live it up a little!
View this post on Instagram
---
Where am I hiking next? The Bibbulmun Track
My plan is to arrive in Western Australia some time in August. Being the southern hemisphere, it will still be the tail end of winter, but spring usually starts around that time.
I am very familiar with Perth and the city has really grown on me over a number of visits. I recall going there in 2008 and not actually liking it too much, but my opinion has firmly changed now. It kind of reminds me of Auckland, New Zealand . I find the locals very friendly too.
Lots of fellow Brits have migrated there over the years and you can even fly direct from London to Perth now (perish the thought of being in the air for that long!).
Perth is one of the most remote cities in the world, but is still accessible from Southeast Asia. I have flown there from Kuala Lumpur, Singapore and Bali, usually for under £100s!
I think the cheapest place to fly from is Bali, due to it being a popular getaway with Australians, particularly weekenders from Perth.
View this post on Instagram
So why am I going to Western Australia again?
The main draw for me is the Bibbulmun Track. It's a hiking trail that runs 1000km from Perth to the south coast town of Albany.
It's a trail that I am familiar with. I have hiked quite a few sections of it over a couple of visits, but my goal was  always to thru-hike the Bibb, or end to end, as the locals say.
The track is very well maintained by the awesome Bibbulmun track foundation, and was originally modeled on the Appalachian Trail, which is one of the big three American trails.
The shelters are similar to those on the Appalachian trail, but are supposedly nicer. It's probably due to the fact that the Bibb is much newer. Some shelters are actually brand new due to wildfires burning down the previous ones. Fire risk is certainly a danger, but this tends to be in summer. Similarly, the danger of snakes is more of an issue in the summer, and will often be about in Spring and Autumn too!
I have seen a couple of tiger snakes before on the Bibb. They often come out and sunbathe in the late afternoon. The trail usually provides them with the perfect spot to lay out. I was once very concerned about the threat of Australian's notorious wildlife, but I am kind of over it now. I always ensure I check under the toilet seat though!
I plan to finish the Bibb around mid October, if not before. I may well end up going to Australia early if they are having a mild winter, but I figure mid August would be ideal.
After the Bibbulmun Track
In terms of hiking, I'm not too sure where I will be walking next. I will take a 'couple of months off' to get back working again. I had considered doing another trail in Australia, such as the Great Ocean Road Walk, but I am limited to 90 days in the country and it could be pushing it.
I usually end up in New Zealand at some point during their summer (Nov thru April), but I might not go this season. The main reason is the expense of getting over to Central or South America, which is where I want to go before I tackle the Pacific Crest Trail in April 2020.
Part of why I want to spend time in Latin America is actually linked to the Camino walks. I really want to improve my Spanish to a conversational level. That way I can finally chat to all the friendly locals I meet in these remote Spanish villages. It's been a goal of mine for many years, and I really want to nail it soon, or I will forever be a mono-linguist!
Me being me, I am not making any firm plans, apart from the PCT in April. I will hopefully get a starting permit in November, with a date around early to mid April, which seems the prime time to leave the Mexican border.
Well that's all from this update. I will leave you with today's view from Siem Reap. It's rainy season but today is more like summer.
Thanks for reading my update and will see you in Australia!
Also, I am buying new bits of gear and will post some gear reviews soon!!