Welcome to my new website, which is aptly named 'Ant Hikes'! I love hiking long distance trails, and this is how I spend a lot of my free time. The rest of my free time (and work time) is usually spent planning trips. 😉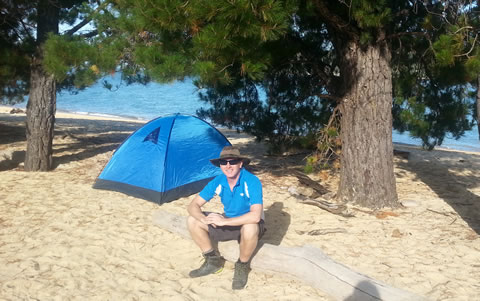 Pacific Crest Trail from April 2020
2020 is hopefully going to be a big year for my hiking career. I want to take on one of the ultimate long distance hikes, the 2600 mile Pacific Crest Trail (often known simply as the PCT). Most non-hikers will probably recognise it from the book and movie 'Wild' by Cheryl Strayed (pictured below).
Due to weather windows, I am looking at starting this hike around April time, which should get me to the Canadian border before there is too much snow (around September or October at the latest). The PCT for me will start at the southern terminus on the Mexico/USA border. Some people choose to hike southbound, like my friend Suvi did in 2018.
Hiking Plans for 2019
So that's what I have planned for next year, but 2019 will be equally as exciting. I have already done some shorter hikes in New Zealand, finally getting around to doing the awesome Rees-Dart Track in Aspiring National Park. I also hiked the Greenstone/Caples with a friend. Before that, I completed a big loop around two North Island volcanoes in the Tongariro NP which was really cool, and had a great Christmas in Blyth hut!
Via De La Plata Camino – Seville to Santiago, Spain – April / May 2019
After I have (hopefully) claimed my Portuguese residency before Brexit day, I will pop over the border to neighbouring Spain, and hike the Via de la Plata, or the Silver Way.
This is a 1000km camino hike from the southern city of Seville to Santiago de Compostela.
I have already done two caminos before. In 2018, I completed the Portuguese camino from Porto to Santiago. In 2016, I completed the most famous camino, the Way of St James or the Camino Frances, from the St Jean Pied de Port to Santiago.
GR5, Offas Dyke or another multi-day hike in Europe – June / July
I am not 100% sure of my plans yet. I am going to be in the UK at the end of May anyway, and will take it from there.
The GR5 runs from Holland to the Mediterranean sea. I am only interested in the Alps section from Geneva to the Med (645-725km – 400-450 miles). I once attempted this hike, but gave up even before I got to the starting point of Thonon Les-Bains (on Lake Geneva).
I arrived at the airport and had somehow developed a bad knee. My pack would have been super heavy back in those days. I ended up taking a train to Chamonix and basing myself there. I just did some day walks.
To be honest, I would have been poorly prepared to undertake a long hike like this. Back then there was little written about the GR5, and I had no experience of long distance hiking.
So I am keen to go back and start what I never started before!
Another option is to stay in the UK and do one of the National Trails there. One that has caught my eye is Offas Dyke Trail,  which follows the English/Welsh border for 177 miles alongside the 8th Century Offa's Dyke. This just about qualifies as a long distance hike (in my view anyway!) and would probably take a couple of weeks. I could combine it with another UK hike, perhaps the Pennine Way or Coast to Coast.
My only reservation about staying in the UK during June is hayfever. This is the worst month for grass pollen, and I always suffer bad from my allergies then. It's less of an issue for me on the European mainland. We will see.
Bibbulmun Track, Western Australia, September – October
The Bibb runs 1000km from Perth to Albany in Western Australia. I have done quite a few of the sections before, most notably back in 2017, but always planned to go back and hike it in one go e.g. thru-hike or end to end, as the Aussies say.
It's an awesome trail, with really nice shelters that are spaced about a days walk apart.
Because of the severe heat and bush fire threat, hiking this trail in Australian's summer is not advisable, although some people have.
September is the start of Spring and the wild flower season. The shelters have water tanks which should be nice and full then.
So that will wrap up the year of hopefully memorable hiking.
View this post on Instagram