The Rota Vicentina is a network of footpaths in the South West of Portugal.
Most people start in the north from Porto Covo (Fisherman's Trail) or Santiago do Cacem, which is where the Historical Trail starts.
The Fisherman's Trail tends to follow the coastline more, whereas the Historical Trail is more inland. Sometimes the two trails converge as one.
The GR11 and E9 tends to follow the Historical Trail more.
Quick Facts
Distance – 230 km
Required time – 10 days plus
Northern Terminus – Santiago de Cacém
Southern Termimus – Cabo S.Vicente
Trail type – Mostly gravel road, some sandy paths
When is the best time to walk?
These trails are essentially doable year round, but the inland Historical trail would be very hot during summer, whereas you would have cooler temperatures and a breeze on the coastal Fisherman's trail.
Accommodation on Trail
There is an abundance of accommodation along both routes, with camping, hostels and hotels.
The official site has a great amount of information for places to stay.
My journey, May 2021
For my walk I was starting where most people end, at Cape St Vincent (Cabo São Vicente) near the town of Sagres.
It was May 14th when I left my long term accommodation in the Algarve and travelled west from Albufeira to the Cape St Vincent via Sagres.
I arrived at the Cape around mid afternoon and took a number of selfies before starting the long walk north!
I was at this very spot in March 2020 and walked 4 days before you know what happened!
It was windy, as it always is in this part of the world!
I headed towards Vila do Bispo which is the first town on the Vicentina, and stopped off at the Lidl for overnight supplies.
Accommodation is quite scarce around this part and VdB had no budget accommodation.
I managed to find somewhere quiet to camp for my first night.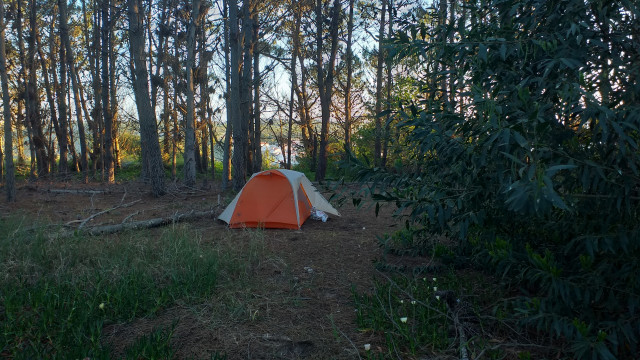 The next day I headed towards the small surf village of Carrapateira. I arrived to find the mini market store closed, but was reassured that it would reopen in a couple of hours.
It was there I met my first fellow hiker who had actually started from Faro! An English guy carrying minimal gear with only a bivvy bag to sleep in.
He was sleeping in abandoned houses, of which there are plenty in Portugal! Our paths would cross again.
I had planned to walk all the way to Aljezur but had lingered too long in the village, so made a plan to camp again that night.
It was quite tricky to find anywhere to camp and I ended up in a very exposed spot. It was very remote but I was entertained by a music festival that was probably a long way away.
The next morning I walked past the festival site, probably 2km from where I was. I was also delighted to find an unexpected cafe in the middle of nowhere!
I arrived in Aljezur and was a little early to check into the hostel, so I sat in the shade nearby. A very friendly young guy from Ireland bounded up to me and offered a cold beer!
He had been living in the area for a year and it was nice to have a decent conversation with someone. He then offered to grab us another beer and rode of excitedly to the supermarket!
I guess this was my first bit of trail magic, which is when someone offers you something for free, like food or drink! 👍
He wouldn't take any money despite not having a proper job! Very kind anyway, and much appreciated.
I stayed in a hostel called Amazigh Hostel and had an entire 8 bed dorm to myself. They had a nice kitchen too so cooked myself something meaty, but unhealthy (burgers and salad).
The next day I headed out of Aljezur and up a steep hill, the first big climb of the Fisherman's Trail. It was a hot day and I was already taking the blue skies for granted.
The Historical and Fisherman's Trails split once again, so I decided to stick with the former until the village of Odeceixe.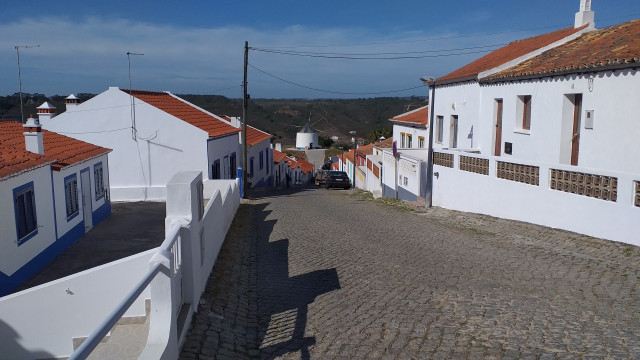 There was a cute windmill in the town and after a brief stop I headed to the supermarket to resupply for the evening and morning.
I walked passed a bus stop and there was the English guy who I met before – the one who sleeps in abandoned houses!
We decided to walk out of town together and look for somewhere to sleep. He was looking at old houses and told me that he looks for overgrown vegetation around the house to indicate no one lived there anymore.
It wasn't long before we stumbled upon one and it was as creepy as hell inside. Half the house was in a terrible state, but the other half was a bit better, so he found an old matress and made home for the night!
I walked a further KM and found a good spot in a forest right above the ocean.
The next day I was treated to one of the most spectacular coastal sections of the Rota Vicentina!
Sometimes there were views of over 100km as I could still make out Cape Vincent (where I started) way into the distance.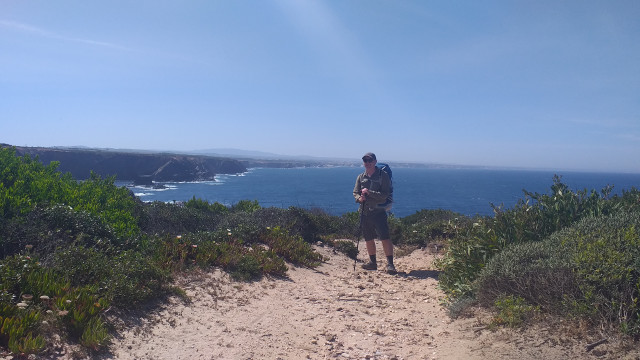 There were also some amazing beaches that seemed very empty too, although there is not much happening with tourism at the moment, of course!
Just two people on the beach!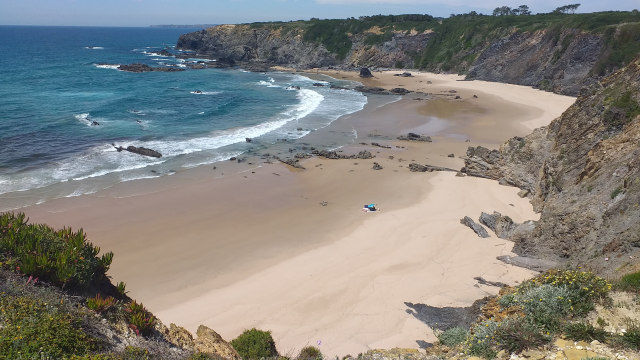 The day was not too eventful apart from the amazing views, but it was sometimes tough going in the deep soft sand, even well away from the beaches.
I stopped in a small village for lunch and found there to be nowhere open.
Luckily I had planned for this and would often carry a bit of food with me.
I found another use for my bum pad (or ass pad!). Using it as a makeshift place mat!
I was now well past the 100km mark and the awesome views continued along this stretch of wild coast.
I walked into the town of Vila Nova de Milfontes and could have saved myself 4km by taking a boat, but I want to avoid taking any transport while there is a walking option.
I stayed in a hotel for just €20 per double room, but wouldn't recommend it, even for that.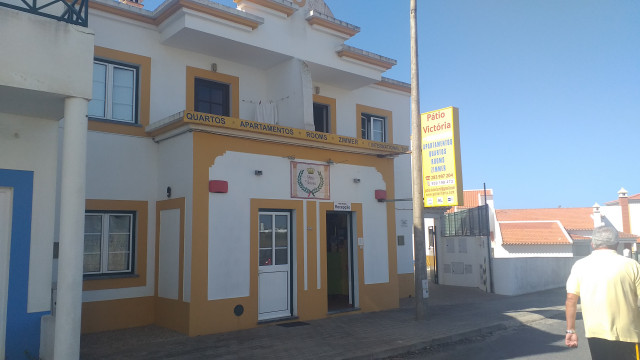 The next stage was a relatively short walk to Porto Covo.
I was now approaching Porto Covo, which was the original start or finish point for the Fisherman's trail, which now extends north almost to Sines.
Sometimes you walk along road, sometimes sand and occasionally through a bamboo tunnel!
I had a close shave with a random dog that was barking like mad at me from over the road and came up near, but then stopped. I walked on and thought nothing of it until I realised it was right behind me!
It then took tried to bite my leg, but luckily just missed. It ran off once I had turned around and raised my voice.
The dog incident too place walking down that hill in the picture above!
That night I slept on top of the cliffs which was pretty cool.
The next day I walked into Porto Covo.
I got a picture at the original beginning of the trail.
I stayed at a nice central campground which cost €10 and that evening I went out for a traditional Portuguese plate!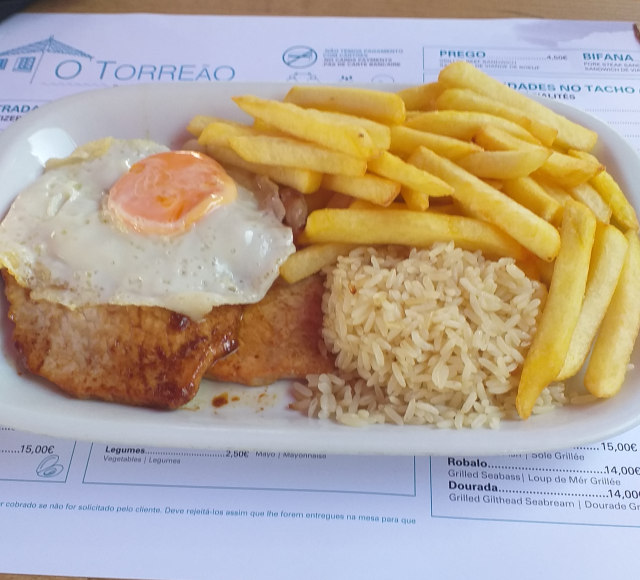 The next day I continued north along the Fisherman's trail for about 10km and then branched off onto my own made up route to get me over to the Historical Trail.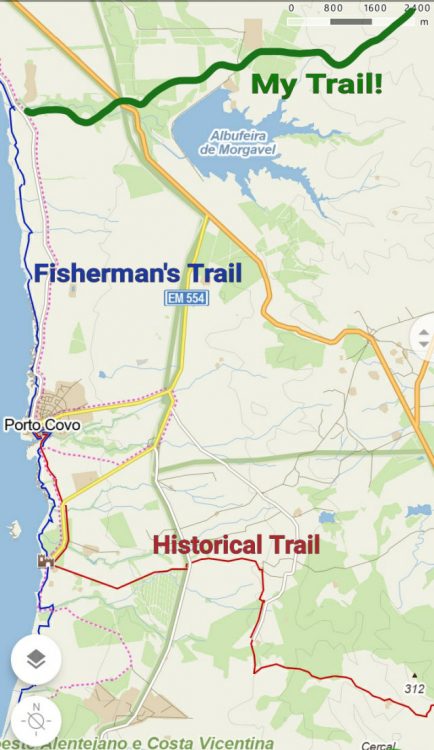 There is an official link route (marked red on the map above) but it takes you back south again and adds many extra KMs! I also hate having to backtrack, but wanted to stay in Porto Covo.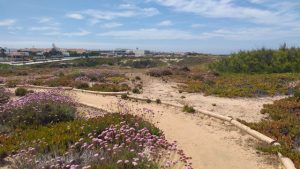 My own route back to the Historical Trail led me around a big artificial lake and past a very creepy power station that looked abandoned.
I then made a big effort to get back onto the proper trail as I was always a bit nervous following these barely marked back roads. Reason is that sometimes they just end up as dead ends which could mean a wasted day's walk!
My linked route was about 20km and I was relieved to be back on the official RV Historical Trail!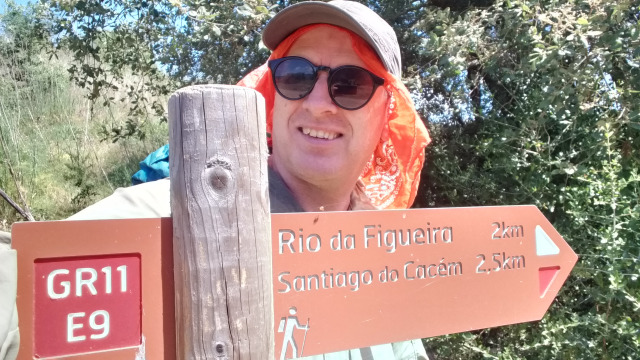 I only had a few more KM's to go before Santiago do Cacem and the end of the Rota Vicentina!
I could see the town now!
I eventually made it to the official beginning (or end in my case) and was happy to pose next to the big map.
Next up is the Central Caminho Portuguese which actually starts in Faro and goes through Santiago do Cacem, and continues as the GR11 and E9!