So here I am again in the charming little town of St Jean Pied de Port.
The day started off at the Ibis Budget in Anglet, then a short bus ride to the Gare de Bayonne.
After waiting in line for 30 mins to buy a train ticket, I learned that there was no train to St Jean. The lady who sold me the ticket failed to mention there was a rail replacement service. I saw a number of pilgrims waiting outside the station by a bus, so joined them before we piled onboard.
One hour later and 50 or so pilgrims were marching from the station in St Jean towards the Centre Ville. The dark sky was threatening rain and I was surprised how chilly it was, this late in May.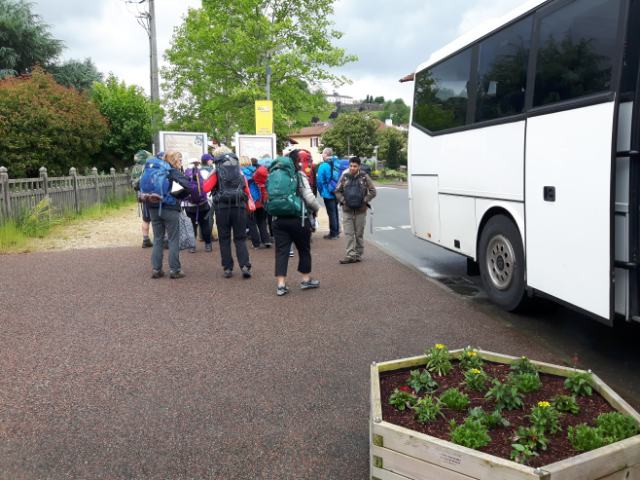 I arrived at the Camino office and had to wait in line for my pilgrim passport. The lady who issued my passport was very friendly, and while her English wasn't great, we managed to have a chat about the Camino, and how busy it is this year.
She said at least 300 pilgrims have been signing in every day, and that it was indeed as popular as ever.
I weighed my pack in the office and was pleased to see it under 10kgs, with water too! A volunteer seemed impressed enough to pat me on the back. Had he known that full camping gear was inside my pack, he'd probably have hugged me too!
I found a bed in the Buen Camino Gite on the main street, and paid €16 for the night, which is probably as expensive as it will get. Spain is cheaper than France, so my €3 glass of Vin Rouge will probably be €2 once I cross the border tomorrow.
So an early night awaits me, as will an early start, as I tackle the 25 or so kms over the Pyrenees. I heard people talking about the weather, but to be honest the weather will be what it will be. I am prepared and raring to go. Over the green hills, and one day's walk, lies another country, and the road to Santiago.
---
Feet: no blisters
Food: ham baguette and pizza
Feeling: good!