Leaving Ahipara and into the Northland forests
Those of you who have been following this blog will probably have wondered why I only made one entry while on the TA. Well the truth is that I am here in Mexico City now when I should have been some where on the South Island!
Let's go back to November and the end of 90 mile beach. It seems a life time ago now but the memories are pretty vivid.
We left Ahipara as a group of four and decided to take a shuttle to the the start of the Herekino Forest track. Looking back now, I am not sure why we didn't road walk as it was only 12kms and was probably one of the easiest stretches of road.
The sign at the start of the Herekino stated 15km in 9 hours. Usually these indicators are way out for people who are in good shape, but this one was almost spot on and acted as a warning for a tough days hiking.
The day was indeed tough and it was n't long before we would be split up. In fact as a group of four, this was to be the last time we would hike together. Within two hours Sally and Calvin where languishing way behind, with Suvi and me out front.
The actual day was hot and sunny but the forest floor was very wet and muddy and I lost count of how many times I slipped over.
The track was sometimes barely a track and in parts was very steep. It was so steep in some places that someone had put in rope to assist the crazy descents!
It was with some relief that we reached the road after a long long day. We were not sure how far Calvin and Suvi where back, but we had to push on and find somewhere to camp.
The next day Suvi set off at 7.30am while I was barely awake in my tent. It would be the last time we'd see each other until Auckland. A Dutch guy called Fritz was also in our camp and left just before me.
For the first time on the TA I was alone.
Of course I expected this, but with one of the toughest sections of forest on the whole TA coming up, I was not exactly over the moon at the prospect.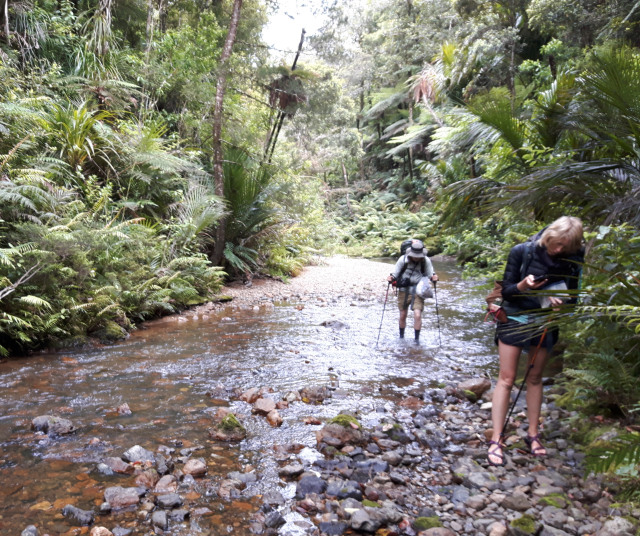 I walked a little way with a guy called Felix from Germany. He was traveling ultra light and was super fit, so we soon parted company as he sped ahead. A bit later I saw Sally walking the other way coming towards me! How could this be?
They were behind us yesterday and never passed our last night's camp. I soon learned that they spent the night just outside the forest and then had a lift to the next section. Sally then decided to skip the Raetea forest (the really tough one!) and was walking back to hitch to Kaitaia, where she would meet Calvin.
Calvin was suffering from really bad blisters as his shoes were too small. He was keen to get ahead to Kerikeri and have his boots delivered there.
So to cut a long story short, I decided to hitch back to Kaitaia with Sally and then bus it to Kerikeri where we'd start walking southbound again. It was a bit surreal being back in the hostel where we stayed before the start of the hike.
From Kerikeri we headed south and I walked with Calvin and Sally for nearly 200km as far Taurikura. Not too much of note happened in these days. They may have seemed interesting then, but it seems pointless to go into detail as I sit here on the other side of the world!
I really enjoyed a stay at the Birdsong Hostel with these really sweet hosts, that was a nice memory!
Another memorable thing was being woken at 2am in the morning by a Tsunami alarm that was set off in response to the Kaikoura earthquake. We had to evacuate our tents and climb the nearest hill, which was not fun in the middle of the night.
Seemed crazy that we would have been affected by an incident that was so far away!
I split from Sally and Calvin as we walked along a beach section near Taurikura.  It was then that I realised that I was not going to be hiking in NZ until March and all the way to Bluff.
I suppose once you skip a section of a thru-hike, it's all too easy to skip others.
I was pretty deflated lying in my tent at Whangarei Holiday Park.
I knew I had to get to Auckland and have a rethink.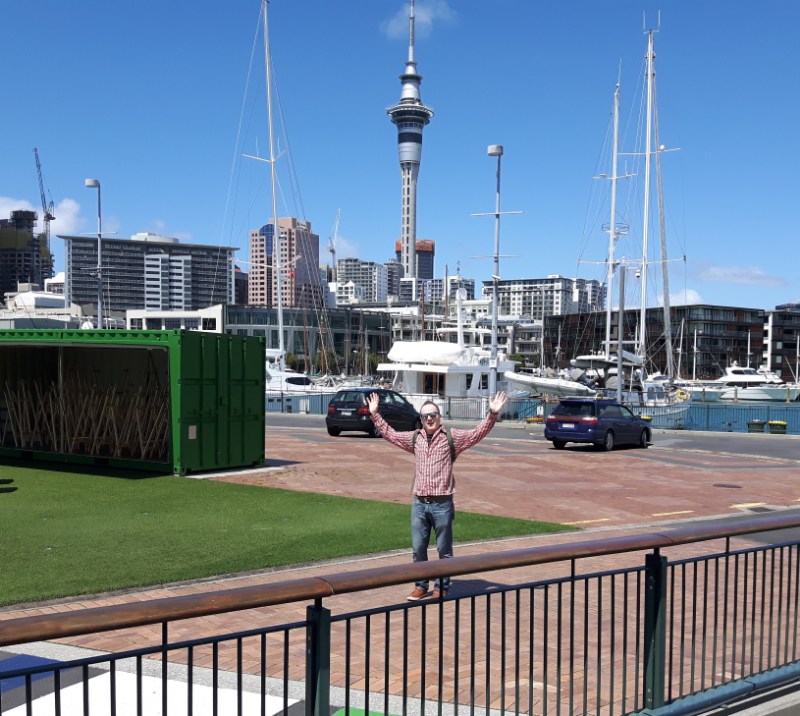 I spent over a week back in the city of sails. I was almost considering leaving NZ early and was browsing flights across the Pacific.
While I was doing this, a group of TA hikers turned up in my hostel.
At this moment I decided to get back on the trail.
I was going to wait until Suvi made it to Auckland and walk south with her.
I met Suvi again and we set off through Auckland's  endless suburbs and surprisingly nice regional parks. I was feeling pretty good about things again, my knee was behaving itself and was nice to be back in the company of Suvi.
I suppose I knew in the back of my mind that we'd only walk so far together. Suvi tended to do much longer days than me and was much mentally tougher  when it came to the hard bits!
So it was no surprise that we went our own ways at a village called Mercer (KM 719).
By this time I was having problems with my knee again, so I finally accepted that I would not be doing the  TA this season.
So my plans changed and I decided to just cherry pick certain sections of the TA and to do other, more interesting tracks!
Here are the tracks and TA parts I did;
– Round the moutain track in Tongariro National Park, a lesser know hike that goes around Mt Ruapaehu. I fell quite badly at one point and damaged my other knee. Luckily I was ok after a couple of days!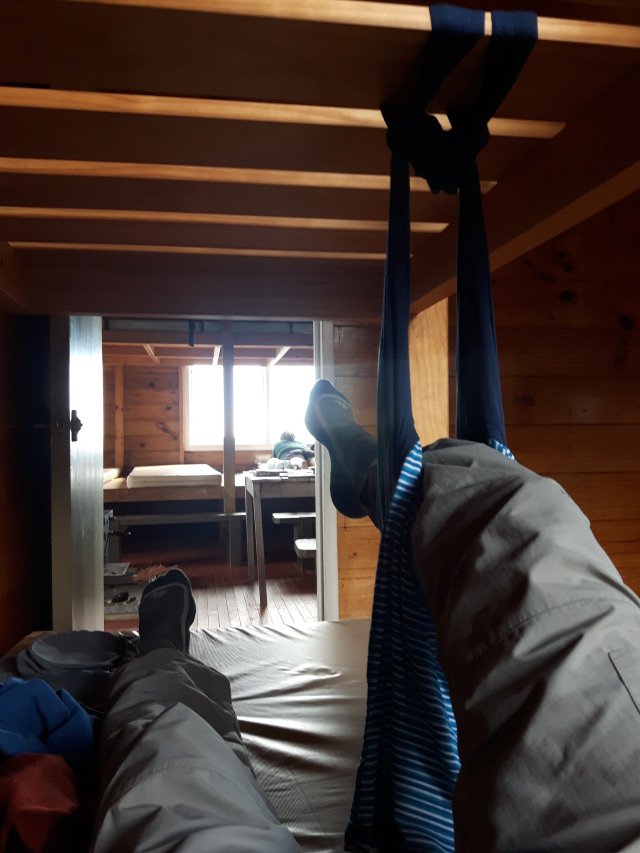 – TA from Ship Cove to Nelson City. I started at the top of the South Island in the awesome Marlborough Sounds. I followed the TA through the Queen Charlotte Track, through Havelock and on towards the Pelorus Track. At Rocks Hut I left the TA and crossed the Dun mountain area to Nelson City.
– Abel Tasman Inland Track. Everyone has heard of then Abel Tasman Coastal Track, the one that follows the coast and is one of the most popular hikes in the country.
The Inland Track is a totally different animal! It is steep, muddy, rooty and you hardly meet any other people! One night I thought I had a hut to myself when three drunken Kiwi women turned up and ruined what would have been a peaceful night!
– St James Walkway – this is considered an easy track of which half of it links up with the Te Araroa. It was not quite as easy as I expected, partly due to the track being flooded and washed away in some parts. I met quite a few TA hikers in the huts and was nice to be back on the trail, albeit just for a couple of days.
After the St James Walkway I headed to Hanmer Springs. I had to stand on the side of a busy highway in the pouring rain waiting for hitch. I then bused to Christchurch, flew to Auckland and then onwards to Mexico City, which is where I am now.
Some brief thoughts on the TA
I knew it would be tough, but I didn't expect it to be so tough. Bearing in mind I missed a lot of the harder sections too.
I met some lovely people, both locals who were very helpful and other hikers too. I realised how a thru-hike is a very individual thing, unless you specifically set out with a partner or friend. The saying 'hike your own hike' is very true.
I was also humbled by how tough these other thru-hikers are. When I say tough, I mean mentally. To hike long distances day after day, through some very tricky and sometimes dangerous trails takes a very special person.
Am I one of these people? Well I feel better placed now for having gone through what I did. Some of the tracks I did after the TA proper seemed very easy to me, despite being rated difficult. I am certainly mentally stronger now.
As a huge fan of NZ I still feel that I want to complete the TA one day. I suppose I am no spring chicken, so I might not be able to hang around too long waiting. That said I met people in the 60s doing the TA, so age should n't come into it if you are physically and mentally fit.
Whether I just section hike the TA or complete it as one thru-hike, who knows? All I do know is that I will be back in the Land of the Long White Cloud soon.