Mont Blanc Tour Introduction
The Tour du Mont Blanc is one of the world's most famous hiking trails circling the Mt Blanc massif (mountain range) and of course Europe's highest peak!
Walking the route usually takes around 10 to 12 days and is 170 km or 110 miles long. An annual race sees athletes complete the whole route in 22 hours! The highest point of the trail is at around 2600m and the total ascent is almost 9000m, that's higher than Mount Everest!
There is a variety of accommodation enroute including mountain refuges, hotels in the villages and towns and of course camping. This is a budget guide so the focus will be more on sleeping under canvas.
Map of the Tour du Mont Blanc
Ant's Diary of the Tour du Mont Blanc – Summer 2020
Before the Hike, the French Jura and Chamonix 'Base Camp'
I arrived in the resort town of Chamonix by train, well four trains to be precise, from the French Jura. I spent around 10 days in the Daubs and Jura mountains hiking a section of the GR5. The GR5 runs from from The Netherlands to the Mediterranean with the most popular stretch going from Lake Geneva to Nice. The GR5 and MTB actually share the same route for a small stretch.
The Jura was basically a warm up for me although I had just cycled the length of Portugal. There were very few hikers aside from families out on day walks, but the scenery was nice and I was glad to have checked out this little known part of the GR5.
When I arrived in Chamonix I headed straight for the campsite called Les Arallas which comes highly recommended. It is around €12 per night for one person and any sized tent! There is wifi, exceptionally clean bathrooms and a nice place to sit and eat or write blog posts, as I am doing now.
A good number of other tenters are here to do the TMB as well and I've been getting some great advice from other hikers, some of which had just finished.
Chamonix is not actually on the TMB but the nearby town of Les Houches is where many start their Tour du Mont Blanc. I came to Chamonix to hang out for a few days and wait for a great weather window. I also needed to replace some of my gear too and 'Cham' is loaded with outdoor sports stores.
I'll miss this campsite when I leave but very excited about the challenge ahead!

Day One – Les Houches to just outside Les Contamines – 17km 
I took the train from Chamonix to Les Houches. It was a short ride of about 20 mins and after a 10 minute walk I arrived at one of the start points of the TMB.
This is actually where most people begin their counter clockwise journey around Mt Blanc.
The Carrefour supermarket was right near the start so I headed straight there. I couldn't believe how much cheaper it was than the supermarkets in Chamonix! It was then a 20 minute walk alongside the road to a walking trail.
It was a very hot day, around 30C, so I really felt the elevation gain which was over 1000m.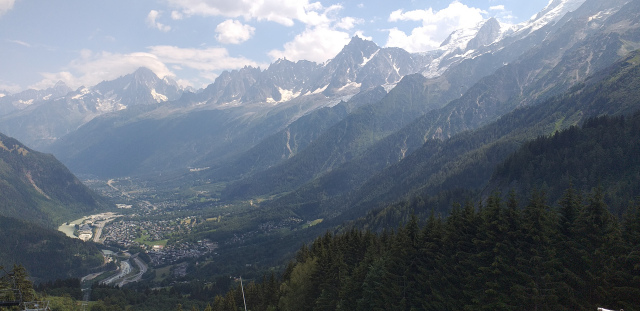 I stopped for lunch at a ski resort shelter and managed to find some shade. I had not planned how far I would go, so was taking it easy in the heat.
Most people aim for Les Contamines which is approximately 18km from Les Houches. There is a regular paid campsite about 4km further on, but I wanted to camp before the town to be able to buy food the next morning.
Finding somewhere to camp was proving very tricky as I walked along a roaring river. I knew I had to stop before town so ended up in a less than ideal camp spot on a dead end lane next to the river.
There was a huge storm that night and I was glad that I had chosen a spot high above the river.
Day 2 – Les Contamines to Aire du Camping Refuge Balme – 9km
I was camped literally minutes from the centre of town and realised I wasn't particularly hidden where I was! The tent was wet from the storm but the heat of the day would soon get to work on it.
I went into the small Carrefour store, bought some supplies then found a nice cafe for coffee. I rarely drink coffee out in France as it's usually very expensive for a tiny cup, but this place was reasonable.
I headed out of Les Contamines on a very easy path through a pretty nature reserve. I had only planned a short day so was taking it very easy.
I stopped at a refuge and made myself a cold coffee with the freezing mountain water. The hike was quite steep initially but it was then easy walking along a nice wide vehicle track.
I reached the Refuge de la Balme in the middle of the afternoon and considered walking on, but the free camping site looked too inviting, as did the view back down the valley.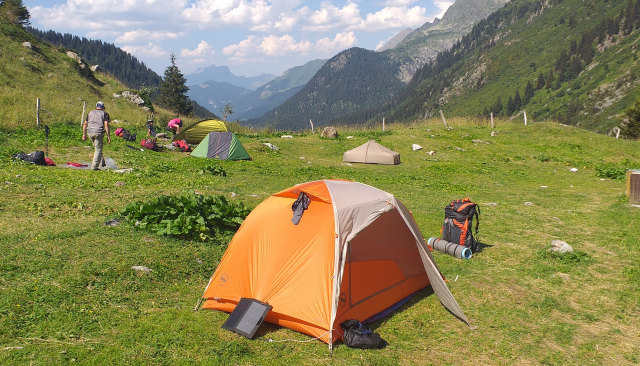 Day 3 – Refuge de la Balme to Les Chapieux – 11km
I had a good night's sleep at the Aire du Camping which ended up being pretty full. I had another relatively relaxed day's walking ahead!
I was surprised how busy the trail was. Everyone from day hikers, those like me on the TMB, mountain bikers and even donkeys!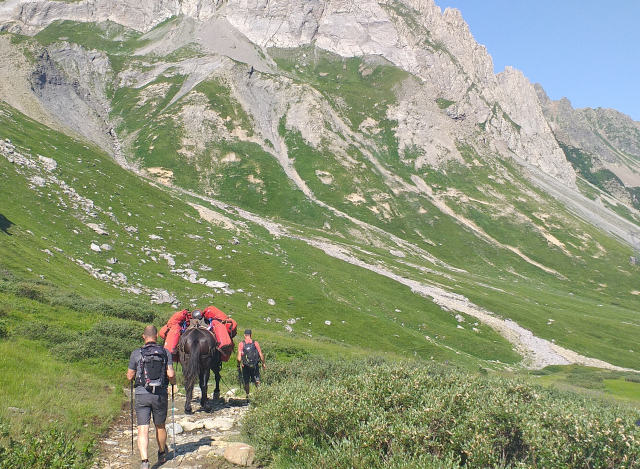 I got up above 2000m for the first time on the TMB and still had 500m elevation gain to the col. 
It didn't take too long to get to the Col and the highest point of the day.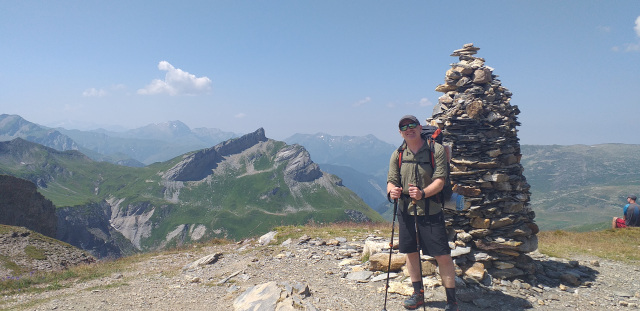 There was a refuge just after the col so I cooked myself some soup and took a break before the long ascent to Les Chapieux. My feet were hurting by the time I finished.
There was an overpriced small store in Les Chapieux and I bought some ravioli which was quite fitting as I would be in Italy tomorrow!
That night there was a massive thunder storm with large hail stones. Some people even abandoned their tents. Mine somehow stood up to it despite having water gushing through! 
It was a reminder of how quickly the weather can change in the Alps. I was glad to not be high up somewhere more exposed.
Day 4 – Les Chapieux to Camping Hobo just outside Courmayeur, Italy. – 23km
I had quite a late start leaving Les Chapieux and had no idea how far I would go, but getting all the way to Courmayeur seemed too much for a slow hiker like me (see above!).
The first part of the day was a relatively easy road walk to the Refuge Les Mottets. I even half planned to stay around the refuge but managed to get there before midday. There wasn't really anywhere to camp and I didn't find the Refuge Les Mottets particularly welcoming.
The weather was my main concern as I was still somewhat shaken from the previous night's storm. There were thunder storms forecast but I felt it was still early enough to get over the 2500m Col de Seigne, which marked the French/Italian border.
It was very steep initially but flattened out as I got higher. There were a couple or moments when I considered heading back down because the sky behind me looked so menacing. I gritted my teeth and pushed on. I wanted to be in Italy!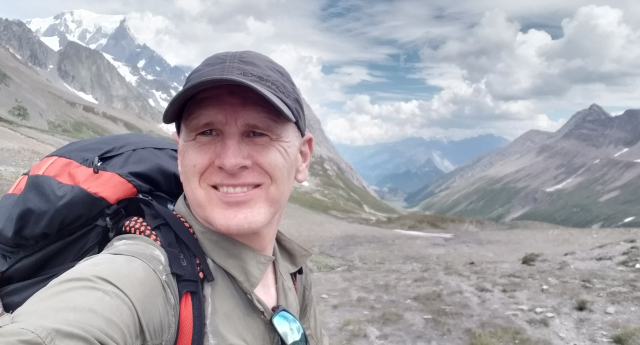 I made it and was relieved to see quite a few others around. I was now keen to get down to the Refuge Elisabetta and hopefully camp nearby.
I arrived at the Refuge Elisabetta and it was clear that there was no camping possible! Luckily it was still only 3pm, so I decided to push on to Camping Hobo near Courmayeur.
I raced down and made it before 5pm. I was very pleased that I had pushed myself. The thunderstorms didn't materialise on the Italian side and was welcomed at the awesome Camping Hobo! 
They had a nice bar so I had a beer and reflected on a day that was at some points quite stressful. Lesson learned was to leave earlier in the morning if afternoon storms are forecast!